Erin Belleville (Class of 2020) was one of many UC Davis School of Veterinary Medicine students who participated in an externship or internship this year through our Office of Global Programs. This is her account: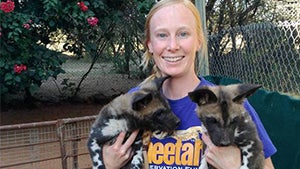 My summer of 2017 actually turned into winter as I was granted the opportunity of completing a veterinary internship with the Cheetah Conservation Fund (CCF) in Namibia. With funding provided by the UC Davis School of Veterinary Medicine Office of Global Programs, I was able to spend eight weeks in Otjiwarango, Namibia gaining experience in research, as well as wildlife and exotic animal medicine. The main focus of my internship was to gain clinical experience with exotic felids. However, with very little research experience, I planned to get my feet wet in that department as well.
Cheetah Conservation Fund takes a holistic approach when it comes to managing the population decline of the endangered cheetah (Acinonyx jubatus). The facility conducts important research, educates the public, and focuses on conservation of the species and the environment. This multi-faceted approach allowed me to gain knowledge and skills in many aspects of wildlife medicine.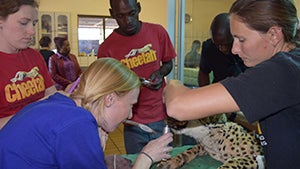 During my time at CCF, I had the opportunity to work with a variety of species from domestic dogs and livestock, to wild and rescued cheetahs, and African painted dog puppies. Upon arrival at the facility, I was quickly integrated into the daily management of the 17 year old cheetah named Sandy. This handleable cheetah was being treated for kidney failure, and allowed me to administer her twice-daily subcutaneous fluids and medications. As my internship progressed, I also helped manage and treat a second elderly cheetah, also diagnosed with kidney failure. This cat was less keen to be handled by people, so she was treated in a squeeze cage, allowing me to learn and practice a different set of skills. Continue reading →